Chest Pain Center
Heart disease is the number one cause of death in the US. Approximately 800,000 people die every year-that's 1 in every 4 deaths. (Heart Disease Facts, 2017) For that reason, Salina Regional Health Center has started the accreditation process from the American College of Cardiology (ACC) to become an Accredited Chest Pain Center with Percutaneous Coronary Intervention (PCI).


What is an Accredited Chest Pain Center with PCI?
Striving for this national accreditation demonstrates Salina Regional Health Center's commitment to always being ready to treat patients with heart attack. It shows that we have the advanced skills to provide effective chest pain care. It is possible many of our heart attack patients might be treated without emergency surgery with a procedure called percutaneous coronary intervention, (PCI). This procedure involves a non-surgical widening of the coronary artery, using a balloon catheter to dilate the artery from within is the primary treatment for acute heart attacks. This ensures that patients experiencing an acute heart attack receive rapid treatment in the cardiac cath lab to minimize damage to the heart muscle. (Rull, 2017)

One in four heart attack victims will have a severe enough heart attack to require PCI in order to open clogged arteries and restore blood flow to the heart.


What are the Criteria for Accreditation?
Integrating the emergency department with the local emergency medical system
Assessing, diagnosing, and treating patients quickly and continually improving treatment processes and procedures
Effectively treating patients with low risk for acute coronary syndrome and no assignable cause for their symptoms
Ensuring Chest Pain Center personnel have a high level of competency and training
Maintaining organizational structure and commitment
Having a functional design that promotes optimal patient care
Supporting community outreach programs that educate the public to promptly seek medical care if they display symptoms of a possible heart attack
Are you at risk for a heart attack?
Signs & Symptoms of a Heart Attack
Become an Early Heart Attack Caregiver (EHAC)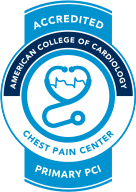 Chest Pain Center with Primary PCI Accreditation
American College of Cardiology
The American College of Cardiology has awarded Salina Regional Health Center with Chest Pain Center with Primary PCI Accreditation since 2018. The accreditation validates the staff's ability to evaluate, diagnose and treat patients who may be experiencing a heart attack.