Gift Shop
Welcome to Salina Regional Health Center's Gift Shop
Can't visit but want to let someone know you're thinking of them? Our helpful gift shop volunteers will provide personalized shopping with same-day, free delivery!
Contact Us
Give us a call at (785) 452-7127 and talk with us about your budget and your patient's age, gender, hobbies, and condition to help us find just the right gift.

Major Credit Cards Accepted: American Express, Discover, Mastercard, Visa

Orders are taken during the following hours (Central Time):
Monday 10 a.m.-4 p.m.
Tuesday 10 a.m.-6:30 p.m.
Wed 10 a.m.-4 p.m.
Thur 10 a.m.-4 p.m.
Friday 10 a.m.-4 p.m.
Saturday 1 p.m.-4 p.m.
* Hours are subject to change as staffing allows.
What We Have
The items pictured below are just some basic examples of popular choices. We have MUCH more than what you see here!
Candy
Choose from a variety of chocolates, hard candies, and bagged snacks as well as traditional candy bar favorites.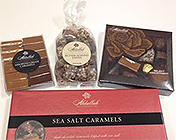 Abdallah Fine Chocolates
Sea Salt Caramels, 8oz 9.99
Asst. Cream Caramels 12oz 6.99
Butter Almond Toffee 8oz 7.99
Select Assortment 8oz 9.99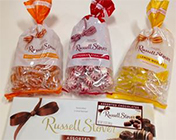 Russell Stover Candies
Assorted Chocolates, 12oz 9.99
Hard Candies, 12 oz 4.99
--SUGAR FREE ALSO AVAILABLE--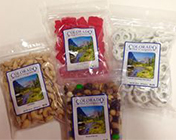 Colorado Nut Co Bagged Treats
Size and Price vary
Up to 20 different snacks
Selection varies
Fresh Flowers
Flowers are delivered from a local florist daily and are always fresh! We offer two size and price point choices.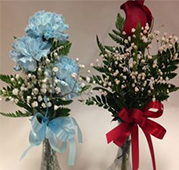 Bud Vases
10.99
(Ask the clerk on duty for color choices)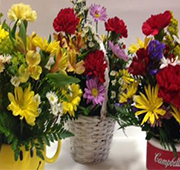 Larger Asst. Floral Bouquet
30.99
(Selection Varies - Ask the clerk for the day's choices)
Baby Gifts
This happy time calls for a special gift! Don't forget the older siblings.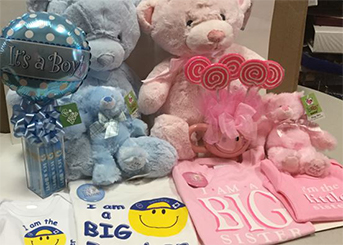 Baby Plush 8" Bear 8.99
22" Bear 40.00

Big Brother/Big Sister t-shirts (Youth XS-L) 10.99
LittleBrother/Little Sister newborn onesies 10.99

Assorted Gift Sets (Ask about prices and types available)
12pc Bubble Gum Cigar Set 13.99
Sucker/Mug Set 17.99

Announcement Buttons .99 Many titles including aunt/uncle, grandma/grandpa, great grandma/grandpa, big sister/big brother, new mom/dad, It's a girl/boy, cousin, twins.
See more of what we have...